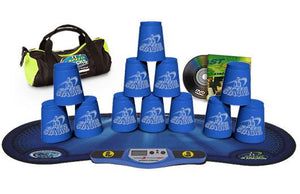 Speed Stacker Competition Pack
Sport Stacking is now the fastest growing sport in the country. It's fun to learn and highly addictive! But remember: Sport Stacking is not just about stacking cups. It's about stacking against the clock to get your best time. That's why the Speed Stacks StackPack includes everything you need to be "competition ready":
12 Speed Stacks Competition Cups
• Exterior texture offers good grip.
• Vent holes for fast stacking.
• Internal ribs keeps cups moving fast.
• Tough memory plastic and reinforced lip.
Patented StackMat
• The Official Timing Device of Master Clubs.
• Keeps cups from sliding out of reach
• Stay-flat neoprene mat optimized for the proper amount of grip and friction.

• Complete instructional program teaches you everything from the basics through tips to become a pro.
• Races, freestyle stacking and more!
• Complete information and links to the World Sport Stacking Association.
With the Speed Stacks StackPack you're "competition ready" and will be stacking fast in no time.
Note: Cups are assorted colors. Travel Bag not included