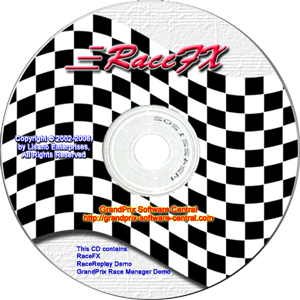 Race FX DOWNLOAD
RaceFX™ Download is a sound effects player which will add excitement to the racing atmosphere of your Pinewood Derby®, Awana® Grand Prix, Space Derby®, Raingutter Regatta and other similar races. RaceFX is very easy to use and is highly customizable. There are no refunds for this product.

RaceFX is not just for use at races! It can be customized for any circumstance where easy triggering of sound effects is required.
Summary of Features:
Lots of Sounds - Plays up to 90 different sound effects, grouped into Car, Truck, Ocean, Space, Crashes, Sirens/Horns, Voices, Miscellaneous, and Custom sound categories.
Packaged Sounds - There are 45 different sound effects provided free of charge with the player.
Playing Sounds - You can play any sound with a click of a mouse or a keyboard shortcut.
Customizable Sound Categories - Any of the sound category names can be changed, giving you the flexibility to use the player in any way you like.
Customizable Sound Buttons - Any of the sound buttons can be configured to play any wave (WAV), midi (MID) or mp3 (MP3) files that you have. You can also replace any of the button images with BMP, GIF, ICO, or JPG images of your own.
Hide Categories and Sounds - Entire sound categories or individual sound buttons can be hidden to limit the player to just the sounds that you intend to use.
Sound Dashboard - The Dashboard is a compact version of the main screen. It is fully resizable and customizable and can even stay on top of other programs, like our GrandPrix Race Manager software.
Customizable Screen Background Color - You can further personalize RaceFX by changing the screen background color of the main and dashboard screens
Loop Sounds - Continuously play a sound clip (WAV files only). Sound effect will repeat until you stop it or play another sound effect.
Easily Adjust Volume/Balance - You have easy access to your PC's sound and balance controls to allow for quick adjustment.
The dowload will be sent to the email attached to your customer account.