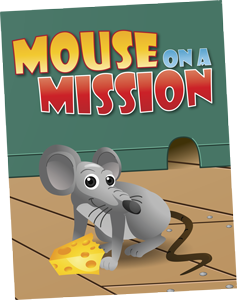 Mouse on a Mission Board Game
Do you desire a fresh, new, interactive way to review with your class? Mouse on a Mission is full of exciting twists and turns designed to keep your children engaged in learning!
This mouse is on a mission to help kids remember the principles taught in your lesson through exciting lesson review.
Points, mouse traps, peanut butter, double bonuses, and even cats are all a part of the excitement of Mouse on a Mission. Plus, you'll find even more twists waiting for you inside!
This Mouse on a Mission Kit includes 60 laminated game cards, velcro Lockdots, and game instructions. Lockfast Game board is sold separately. Some assembly is required.