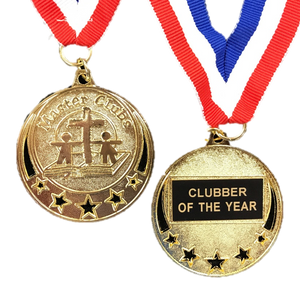 Master Clubs Award Medal - Clubber of the Year
Master Clubs now has a special award medal for you to use in a variety of ways to motivate children in your Club program.
This gold-colored, die-cast 2" medal includes a colorful ribbon and the inscription "Clubber of the Year" on the back. 
If you want to take a step up from simple, generic award certificates, then this medal is for you! You can award this medal to Clubbers for faithful attendance, most improved, special awards, or even Jamboree awards. Any high honor in your Master Clubs program is worthy of receiving this Award Medal.
When placing customized orders, send your personalized inscription to sherry@masterclubs.org. For more information, click here.