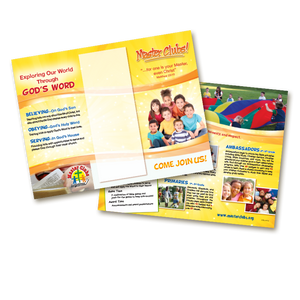 New Invitation Brochure (50 pack)
Sold 50 per pack.
Use as a Brochure
Use your Master Clubs Invitation Brochure to include your church and Master Club information. This setup is perfect to hang on a door in an information packet or to place in your church tract rack.
Use as a Mailer
The Master Clubs Invitation Brochure is perfect for you to use as a mailer to your community. Simply print the addresses on the designated spot; fold the brochure; apply round mailing seals to hold the brochure closed; add your own stamp; and place your brochures in the mailbox!
Take a look at the some ideas for using this product!