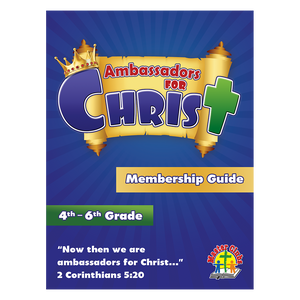 Ambassadors Membership Guide
The Ambassadors' Membership Guide contains the most comprehensive membership requirements produced by Master Clubs. This 16-page book contains all of the typical membership requirements, plus a nine page crystal-clear gospel presentation. Understandable salvation verses are used throughout; difficult words are identified and defined in terms that juniors can understand. It also includes a page that explains baptism.
After your Clubbers go through this guide, you could go over it with each child's parents which may yield an additional salvation decision.
A Clubber must only complete this book once as an Ambassador, not each year.