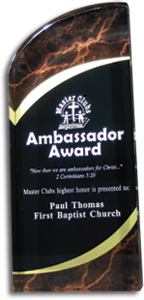 Ambassador Award - email with inscription required
The Ambassador Award is the highest possible award that an Ambassador can earn. This special and unique award is only awarded as the Clubber graduates from Master Clubs. In order to earn this award, a Clubber must have earned all four Ambassador Crowns, completed 16 Discovery Books, earned 46 merit badges, memorized 90 Scripture memory verses, 3 Daily Devotions badges, and displayed Christ-like character throughout their years as an Ambassador. This award includes a velvet carrying bag.
When placing customized orders, send your personalized inscription to  info@masterclubs.org .  The inscription should include 3 lines of engraving: Child's name, Church's name, and date or year. These orders can take up to two weeks to get in to our office and then shipment time to you.